Shelter Bay, Sai Kung is in the north eastern region of Hong Kong SAR, surrounded by undeveloped country park this is a beautiful sea kayak journey just 1 hour from Hong Kong city!
the UNESCO GLOBAL GEOPARK - Inner islands 2 day trip
This is a beautiful 2 day sea kayaking camping trip that explores the inner islands of the UNESCO Global Geopark of Hong Kong. 
You will paddle approximately 15 klms per day so you need to be relativey fit. We visit numerous islands of the group as well as snorkle on coral reefs, view amazing coastal formations including sea arches, sea caves and sea tunnels. 
This trip is in the most beautiful part of Hong Kong so expect to be amazed.
SKILL LEVEL: This trip is suitable for beginners but you will find it tiring.
FITNESS LEVEL: You will need to be fit to complete this distance.
KAYAKING EXPERIENCE: Some kayaking experience is required
DURATION: 4 hours paddling each day – moderate (approx. 15 kms/day)
DEPARTS: Sai Kung McDonalds at 10 AM 
RETURNS: Sai Kung next day at 5 PM
PRICE: HK$2400 pp (includes see bottom of page)
Detail about the sea-kayak tour
We meet at Sai Kung (Mcdonalds) at 10:00 am. From here it is a short walk to our kayaks where we pack them ready for the journey. Getting on the water around 11:00am allows us plenty of time to explore the inner islands of Shelter Bay. 
There are many routes to choose from (see map) depending on the tides, winds and general weather conditions. On any route there are ample opportunities to stop and explore the features of the islands, swim and snorkle.
Our outbound journey is well protected due to the large number of inner islands in Shelter Bay. As wwe depart we are surrounded by super yachts and speed boats playing in the waters off Sai Kung (an exclusive resort destination for Hong Kong residents). 
We will pass close by Sharp Island (the edge of the volcanic caldera. This will pssibly be our first swim for the day. 
As we get closer to our camping destination the protection falls away and we begin to feel the swells of the open ocean to our east before entering Pak Lap Wan around 5 pm.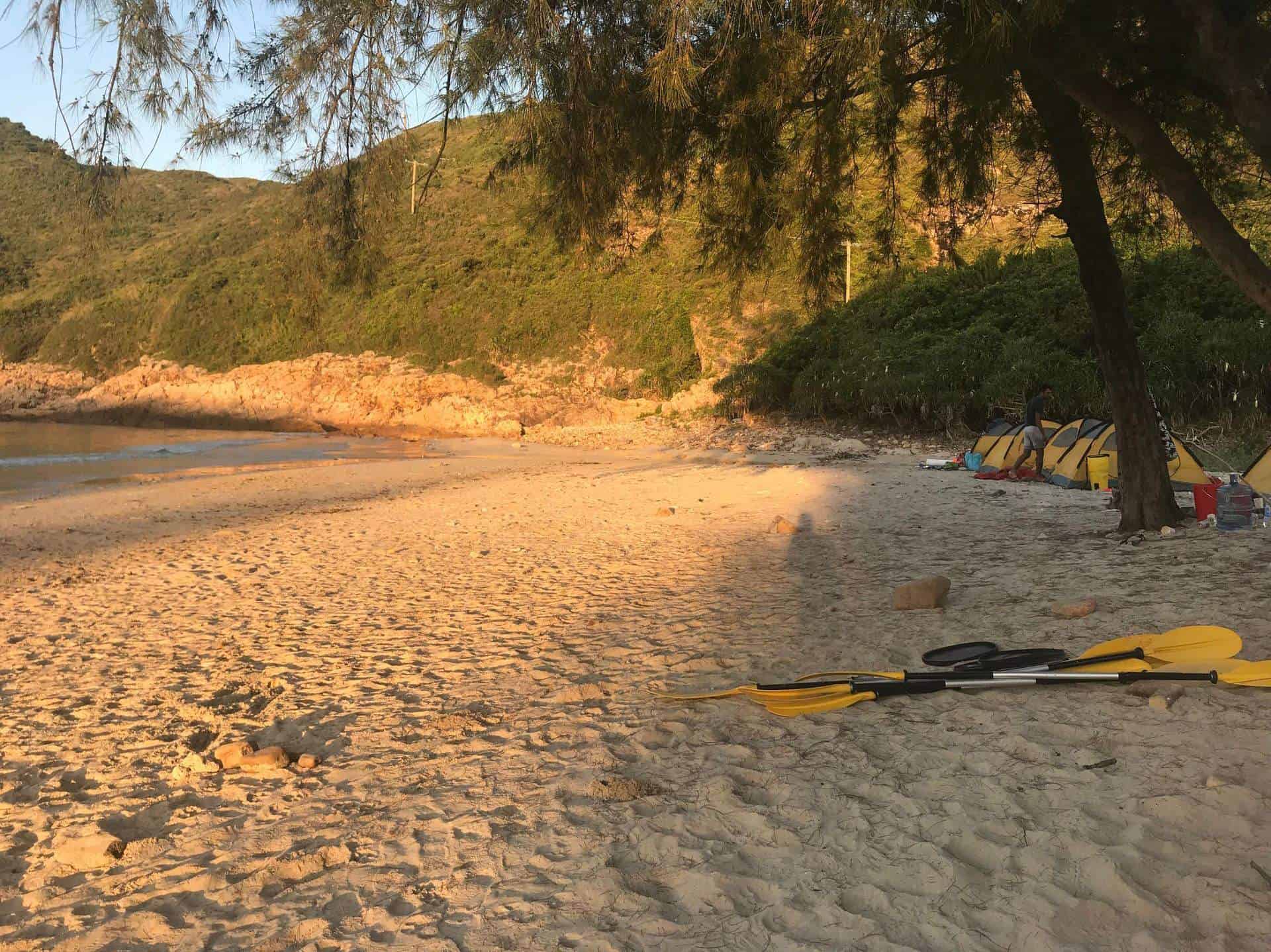 Our preferred campste is at Pak lap Wan, a small bay on the outer limiyts of Shelter Bay. Here there are some amenities and a supply of fresh water. A small settlement (Hakka Village) is being converted into a weekend destination for locals. There is a shelter here for cooking under if we have any inclement weather
We use 2 man tents and inflatable sleeping mats. Dinner will be around 7pm after we have erected all the tents and had a refreshing swim. 
This is a beautiful and peaceful beach – a relaxing spot after a long day's kayaking.
Breakfast will be cooked early so we can spend as much time on he water as possible on our return journey. 
Our return journey will be another route, making sure we explore the different islands and their unique features. 
If the wind and sea conditions are favourble we will attempt to visit some of the many sea caves and sea tunnels and arches along our return journey. As with any sea kayak trip, safety will always be the first consideration.
Again we will stop many times to swim and stretch our legs before returning to Sai Kung by around 4 pm. After unpacking, changing and taking a welcome shower, we have time to explore Sai Kung town, have a refreshing farewell drink before heading back into the crazyness of Hong Kong! 
A beautiful, amazing sea kayak trip just 1 hour from the high rise of Hong Kong city!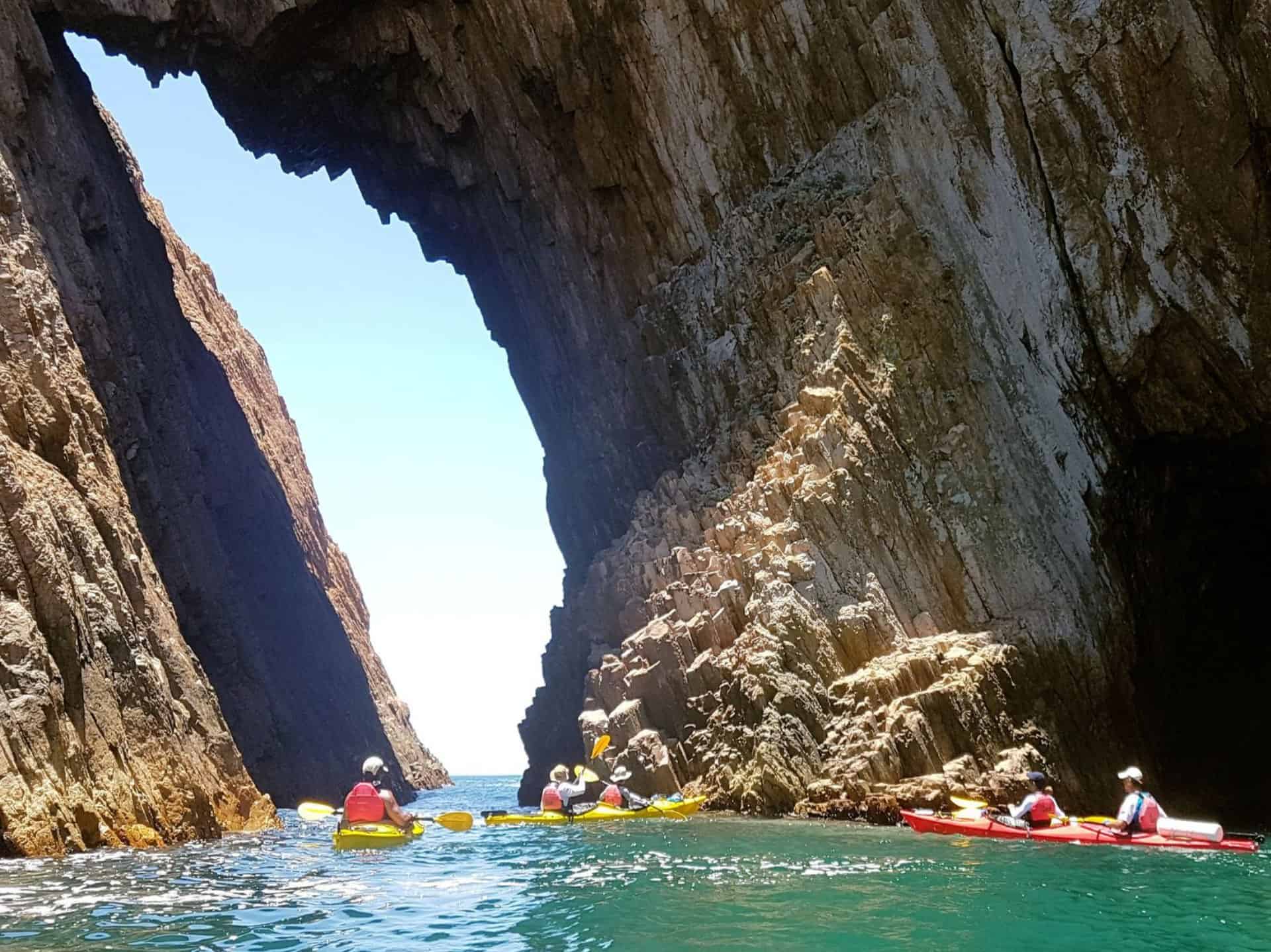 Detail about the sea-kayak tour
Our meeting place is at the front of the McDonald's Restaurant in Sai Kung.
A detailed description of how to get their is provided after you have booked your trip.
As little as possible. Everything has to fit inside the kayak as there are no roads into where we are going. A full list is provided when you book.
Anything of value that will be ruined if it gets wet. No electrical equipment unless you can protect it from the harsh marine environment.
Yes we can cater for special dietary needs. Please provide details when booking.
LEt's start
your journey!
UNESCO GLOBAL GEOPARK HONG KONG