Double Haven is a secluded and remote part of Hong Kong situated in the far north east corner far north eastern corner of the country. There is NO road access to any part of this country park. Over the next few days we are completely isolated while we are in the lagoon. It is surreal and always calm.
the UNESCO GLOBAL GEOPARK - Double haven 4 day tour
A beautiful, eye-opening sea kayak trip into an unknown, unexplored, unvisited part of Hong Kong. A journey of discovery.
Double Haven Lagoon is a trip back in time. Very few people visit this part of Hong Kong, which is hard to imagine. It has no roads and only 1 ferry per day to only 1 island of the group of islands that make up the periphery of the lagoon. 
A special part of Hong Kong only accessible by sea kayak.
SKILL LEVEL: This trip is suitable for people with some sea kayak experience.
FITNESS LEVEL: You will need to be moderately fit to complete this distance.
KAYAKING EXPERIENCE: Some kayaking experience is required
DURATION: 20 hours paddling in 4 days – moderate (approx. 12 kms/day)
DEPARTS: 10 AM Sai Kung McDonalds
PRICE: HK$4800 pp
Detail about the sea-kayak tour
Departing Sai Kung early by bus, we reach our kayaks at Wong Shek Pier, in the western branch of Long Harbour. After meeting our guides, we pack our kayaks with personal gear. The provisions and camping equipment are already stowed.
Our first destination is Hoi Ha Wan, home to over 80 species of coral reef, a little more than an hours paddle away by kayak. Here we join other paddlers who have recently completed the Sai Kung East section (1) of the Global Geopark Expedition.
We spend a short time snorkelling before having our first lunch on a fine sand beach surrounded by rainforest.
Our afternoon paddle is longer and takes us across the Tolo Channel and out of the volcanic region of Hong Kong into the more sedate, sedimentary geography, stepping back in time another 200 million years. The towering cliffs of Sai Kung East are replaced with low flat islands with broad beaches, mudflats, mangroves and forested hillsides that reach down to the waters edge. Once we enter into the main lagoon, the transformation is complete. Waves disappear as we are surrounded by blocking islands keeping the elements at bay.
Our first night camp is in a sheltered bay – a beach campfire is a must have to celebrate the wilderness solitude.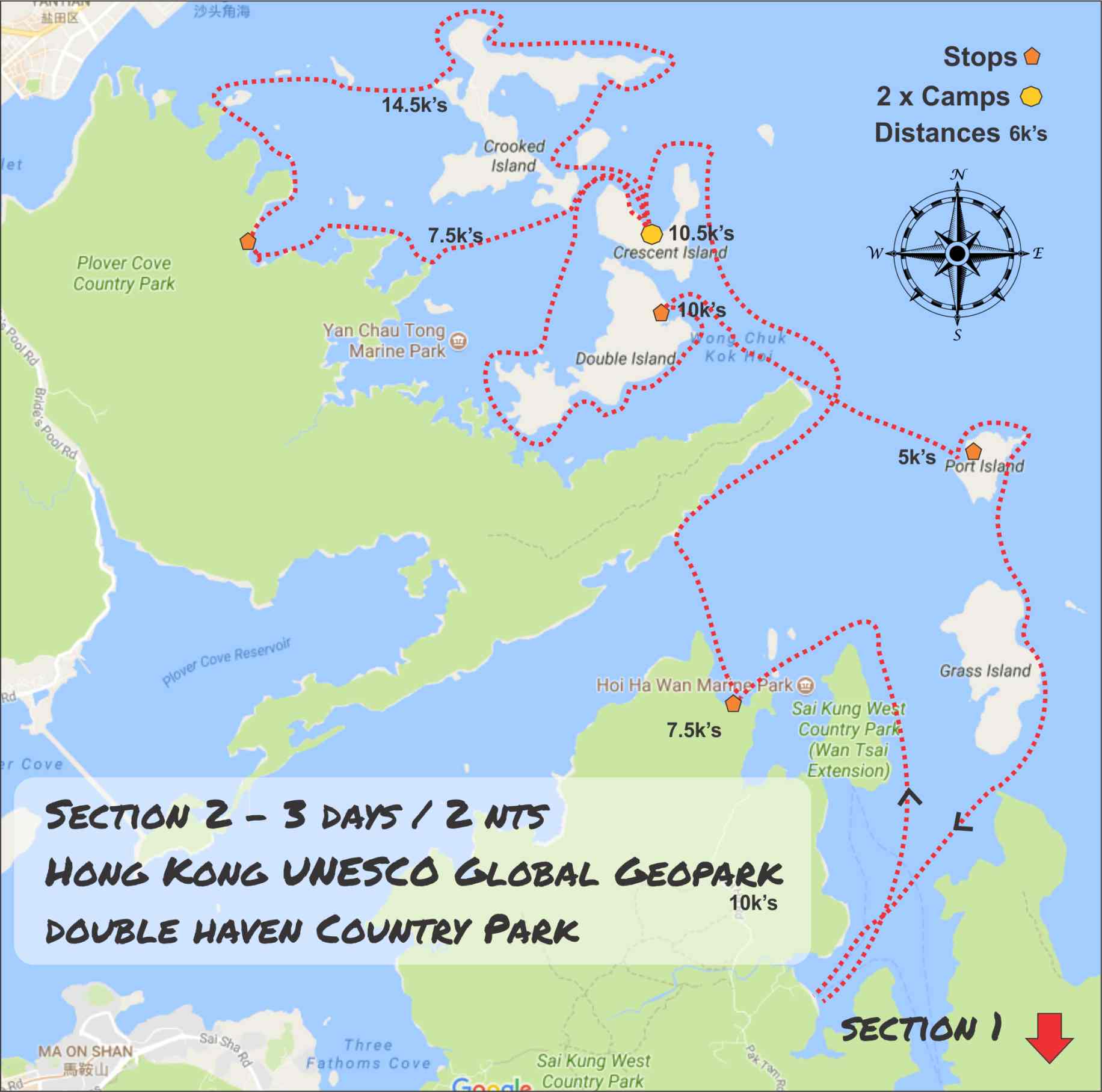 Today we leave our campsite intact and head out for a day of exploring. Double Haven Lagoon historically was a very rich fishing and agricultural area. Today, all but a few of the villages are 100% deserted.
As we paddle from island to island we pass village remnants reminding us of the recent and ancient Chinese history. It is surreal, just 10 kms from the megacity of Shenzhen, hidden from view by the surrounding low lying islands.
We make a short hike to visit the old, not quite deserted walled village of Lai Chi Wo to turn back the clocks and see how the Hakka Chinese lived 100's of years ago.  We continue to glide peacefully, stopping at deserted beaches to swim or snorkel. This bay still boasts areas of coral reef. Because we left our camp established there is no need to hurry today. As long as we are back in time to prepare dinner, we have no other pressing engagements!
We spend the evening relaxing at camp, basking in the complete isolation.
Today is our return journey to civilisation. Leaving Double Haven, we head for distant Port Island at the mouth of the Tolo Channel. 
We are not sure whether it's the red sedimentary rocks or the fact that the island marks the entrance to the inland port of Shatin, but Port Island offers another chance to snorkel on the coral reefs.
As we pass Grass Island we again enter the sheltered waters of Long Harbour and quietly paddle back to our original starting place, 3 days ago.
A serene, surreal journey ends as we climb back aboard our bus and head away to the busy metropolis of Hong Kong.

PLEASE NOTE: 
The crossing from Double Haven to Long Harbour can sometimes be rough water. Please ensure that you have sea kayaked before if you wish to sign up for this sea kayak expedition.
Detail about the sea-kayak tour
Our meeting place is at the front of the McDonald's Restaurant in Sai Kung.
A detailed description of how to get their is provided after you have booked your trip.
As little as possible. Everything has to fit inside the kayak as there are no roads into Double Haven. A full list is provided when you book.
Anything of value that will be ruined if it gets wet. No electrical equipment unless you can protect it from the harsh marine environment.
Yes we can cater for special dietary needs. Please provide details when booking.
LEt's start
your journey!
UNESCO GLOBAL GEOPARK HONG KONG