FUNDAMENTAL SEA KAYAK SKILLS
Course
1 DAY - Kayak Control & Safety
This is a non-certificate course designed to take a person from being an absolute beginner to one who is able to confidently control a sea kayak in easy conditions, prepare for a sea kayak trip and how to handle him ot herself in case of a capsize.
It teaches the fundamental skills for anyone wishing to start your journey as a sea kayaker.
Suitable for people aged 15+ yrs

$700 per person (does not include lunch or drinks)
Sharp Island in Port Shelter the perfect venue to learn the fundamental sea kayak skills to enjoy sea kayaking safely and efficiently.
Port Shelter is a protected coastal sea famous for it's the crystal clear waters and coral reefs.
9:30 am: meet outside launch site at Sha Ha Beach, Sai Kung.
10:00 am: start the morning session – paddle to Pak Sha Island before learning basic kayak control skills.
12:30pm: Working lunch & a swim to relax.
13:30pm: Rescue skills training.
16:30pm: Short paddle back to Sha Ha Beach – get changed.
17:00pm Depart for home.
Kayak Control Paddle Strokes
Learn how to control a sea kayak using 5 basic paddle strokes.
Instinctively choose what paddle strokes to use, when and how to use them in concert & individually to sea kayak effortlessly and gracefully.
The paddle strokes you will learn are the forward, sweep, reverse, draw, low brace and stern rudder.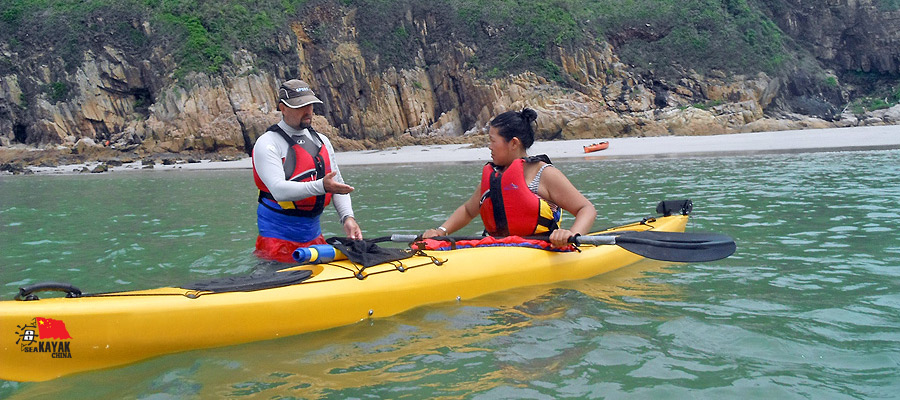 Learn how to rescue a capsized sea-kayakerand how to be rescued if you capsize your sea-kayak.
Even the best laid plans can go wrong, so we will learn what to do when that happens.
How to rescue a capsized kayaker and how to rescued are essential sea kayaking skills.
LEARNING BASIC RESCUE SKILLS
At the end of your course you will understand how important sea kayak skills and experience are to your safety and enjoyment . This course will provide you with the insights into the fundamental elements of sea kayaking and a knowledge of what you can and cannot do, and importantly, how to progress your abilities further.
• forward and back paddle
• sweep stroke
• stern rudder
• how to control your kayak by choosing the correct paddle stroke at the correct time.
• how to enter and exit the water from a beach,
• from deep water,
• from a pier or landing,
• from a rocky shore.
• what to do when you capsize in shallow water (surf),
• in deep water
• how to swim with your kayak
• how to empty your kayak after capsize and return to shore
• how to communicate at sea with other kayakers
• understand the use of and equipment needed to go sea kayaking safely
• personal risk management and awareness of others
If the availability & booking engine does not appear on this page, click on the button below to check availabilities and bookings.
If you need more details regarding this course, complete the email form below. You should expect a reply within 24 hours.
Check Availabilities - Book Now

All staff have SKHK seakayak instructor qualifications.
A staff ratio of 1 to 8 on the ocean and 2 to 8 on land.
Includes single & double sea kayaks, paddles, bouyancy vests and all safety equipment.
There are showers and toilets at our base camp.