An exposed coast with few takeout places
SOK KWU WAN to Lo So Shing Village Beach – east to west sea kayak journey
This trip route will vary (possibly a lot) depending on the tide, wind and ocean conditions on the day. Do not attempt to paddle this section of the Hong Kong coast unless you can self-rescue. There are very few escape routes.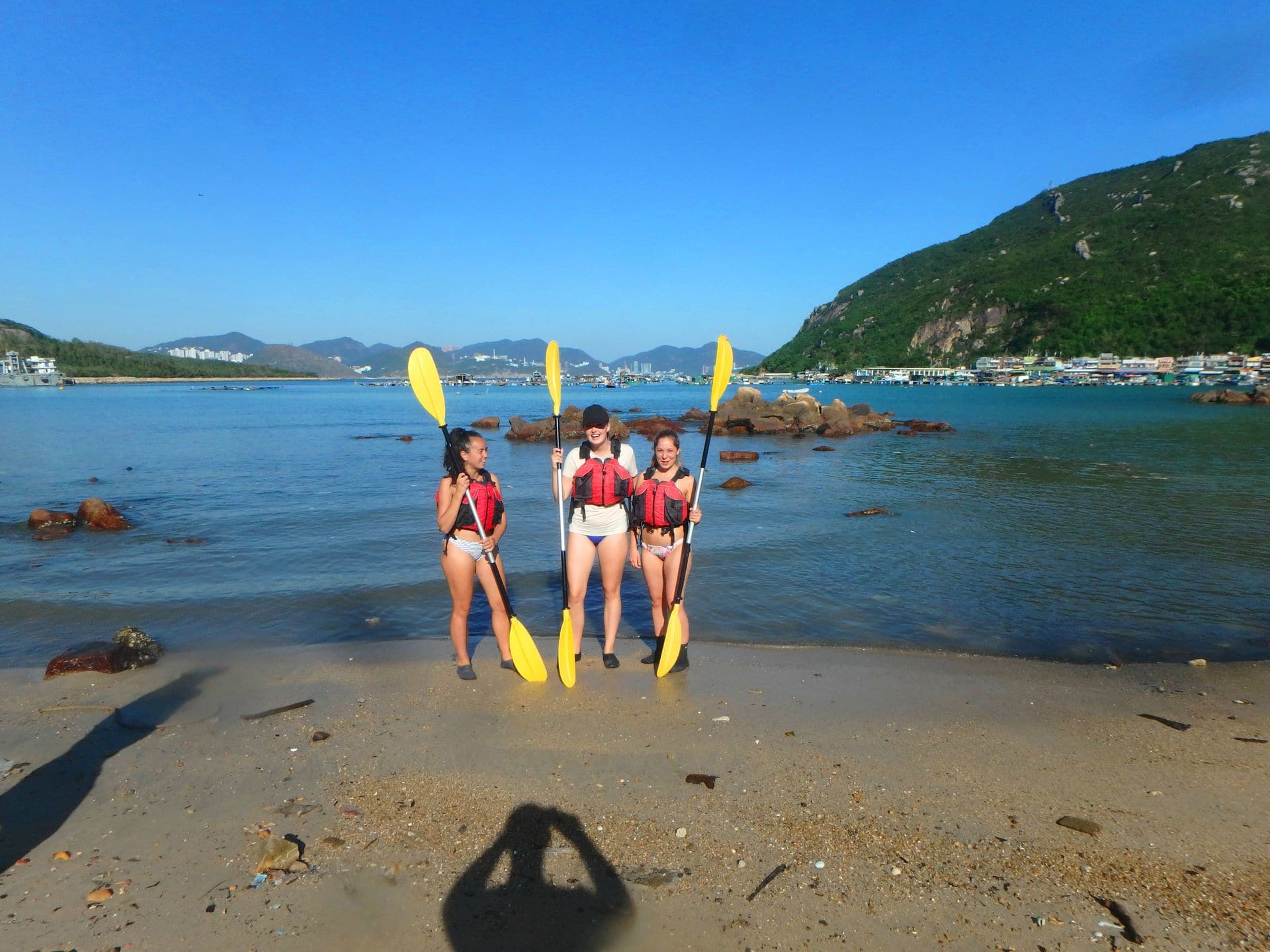 As this trip is 17 klms from start to finish, if you don't go into beautiful Shek Pai Wan, which would add an extra 3 klms. If the sea, wind and tide conditions are favourable, its a very rewarding to paddle along a largely unknown stretch of the Hong Kong coastline.
So by the numbers:
1. Lo So Shing Village Beach to the East Lamma Channel – 2.58 klms / 40 minutes.
Sok Kwu Wan is a sheltered bay protected on 3 sides by high hills, so unless the wind is coming from the NE, you will not know how strong it is, until you leave the bay.
Point 1 to Point 2 – East Lamma Channel.to Sth Lamma Sea Tunnel – 1.71 klms / 20 mins
The are 2 places in this section that have tidal waves and strong currents, indicated on the map by the yellow wavey lines.These areas can have very confused water at peak tides. 
Just around the headland, if the waves are small, you can explore in close to the cliff face and you will find a surprise – there is a tunnel wide enough to paddle through. This is very easy to miss.
Point 2 to Point 3 – Sea tunnel to Sham Wan beach – 4.76 klms / 60 minutes.
The crossing from the sea tunnel to Sham Wan Headland is relatively straight forward, if you are travelling with the tide. It will take between 30 and 40 minutes, but if the tides are against, this could easily take twice as long.Once you are around the headland and enter Sham Wan (Deep Bay) you gain the protection of the headlands on both sides and quickly find yourself in a sheltered bay (except if the winds are blowing from the south).
The paddle into Sham Wan will take 20 minutes. From July to October the beach is closed to visitors due to the Green Sea Turtle breeding season.Do not land on the beach, instead, paddle 5 minutes back across the bay to a small beach on the opposite side. A great place to swim and have lunch. There is shade too.
Take your time to have a swim if it is a warm day as there is no place to exit for another 1 hour after departing the lunch beach.
Point 4 to Point 5 – Sham Wan lunch spot to sea caves around west Sham Wan Headland -2.0 klms / 30 minutes.
Leaving Sham Wan you are again exposed to rugged cliffs and a long headland that juts out into the South China Sea. Here there can be large swells and cross currents depending on the tide. Paddle hard around the headland into the bay behind. You will see a series of cliffs with dark spaces along them. These are sea caves that are worth a visit if the conditions are good.
Point 5 to Point 6 – .Sea cliffs to the waterfall cave – 1.2 klms / 15 mins paddle.
This section is steep sea ciffs all the way. Once around the headland you will see a valley in front of you and what appears to be a dark cleft in the rocky shore. As you paddle towards it, there will be a small waterfall appear (15m) if there has been recent rain. If it is dry, there will be a narrow gap in a cliff appear. This gap is about 4 meteres wide and goes back into a cave that is 30 meters deep, with a steep sandy beach inside. If the water fall is running, you cannot see the cave or the beach. 
NB: you can kayak into this cave and land on the bech if the waves are small. DO NOT go into the cave if the waves are 1/2 meter of greater as you cannot turn around inside and the shorebreak can capsize you when you have to reverse out again.
Point 6 to Point 7 – Waterfall Cave to Millionaires Beach – 2.52 klms / 30 to 120 minutes!!!
This section of the route has the potential of being the most difficult, depending on tide and swell. The cliffs and rocky shores do not allow for a safe landing until you are around the final headland.However, the headland can have a very strong tidal race for about 300 meters. If that is with you, this is a very simple rounding, but if that is against you, it is sometimes faster than you can paddle and will make the section very tiring. Time your journey well!!
Point 7 to Lo So Shing Beach – 1.41 klm / 20 minutes
An easy paddle north to the first beach, however this is a governemnt gazetted beach so it is prohibitted to land there during the swimming season so ensure that you stay close to the southern bank as you addle in. There is a rocky headland with BBQ pits. There is a series of steps leading to the water there. It is a difficult take out poit. Most often it is better to paddle onto the beach and hope that the life guards understand. 
From here the kayaks have to be carried up the stairs at the back of the beach and then trolleyed back to Lo So SHing Village beach – approximately 300m and about 15 minutes hike..