Top 5 easy sea kayak trips in Hong Kong - #4
Sai Kung to Pak O – UNESCO Global Geopark (or return)
A full day trip - 6 hours kayaking.
This trip can be done in most conditions – except when the the wind is from the south-east and south, blowing greater than 20 km per hour.
This is a longer sea kayak journey than the others, but because of the mostly sheltered nature of the route, it is still regarded as an easy trip, although absolute beginners may struggle with the distance of 15 klms.
This is a true sea kayak journey beginning in Sai Kung at the same location as the Inner Shelter Bay kayak trip but travelling 1n one direction to the outer islands (no returning back to the starting point) terminating in a quiet, remote sheltered cove on the edge of the South China Sea. 
Leaving Sharpe Island behind (see inner shelter bay kayak trip for details) we continue heading south eaast, along the shores of Kau Sai Chau.
Our paddle takes us through another floating fishing village, this one caters to the greater Hong Kong restaurant community whereas the fishing village in Sok Kwu Wan caters solely to the local waterfront restaurants. From here we head to Dog Island to meet our friendly inhabitants and stop for a brief swim to cool down from the intense heat of Hong Kong. It is best to take snacks and water for this journey, but also to take some food for the local dogs. They always appreciate it.
Relaxing on this remote white sand beach on a totally deserted island makes you wonder why more development hasn't occurred. Whatever the answer to that question is, we all hope is continues to prevail. This is a quiet retreat only minutes away from one of the world's most cosmopolitan cities. 
Your return journey takes you back into to the East Lamma Channel, this time heading south along the coastal cliffs into the sheltered waters of Sok Kwu Wan. The trip covers a total distance of 7 kilometres in mostly protected waters. 
This is a sea kayak trip that highlights the contrasts that make Hong Kong such a unique destination. 
You are paddling to a remote and totally undeveloped, deserted island less than 2 kms away from Hong Kong Island itself, with over 1.2 million people. The city of Hong Kong is made of towering skyscrapers of glass and concrete, but the villages you visit on this trip are made up of 1, 2 or 3 story buildings constructed of adobe mud and ming dynasty bricks. You will paddle past high speed catamarans and luxury multi-million yachts while watching local fisherman dressed in drab cotton shirt and pants, wearing a bamboo shade hat, controlling their san pan with a long stick of wood shaped as an oa,r hanging from the back of their boat! You'll see birds diving for fish then roosting on on steel railings that follow the concrete trails that lead from village to village. There are no roads on Lamma Island. Not one single car!
This is a unique, easy sea kayak trip that highlights the past present and future of Hong Kong. 
News
Salt-Based Technologies to Help Stop the Spread of the Coronavirus Salt is a natural substance that inhibits the growth of bacteria — partly through dehydration,
Read More »
Top 5 easy sea kayak trips in Hong Kong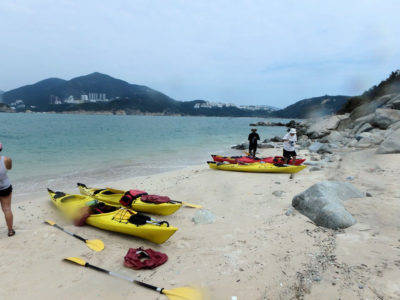 This 6 km sea kayak trip features the British history and natural beauty of Hong Kong.
Read More »
Top 5 easy sea kayak trips in Hong Kong – #2 A full day trip – 5 hours kayaking. This sea kayak trip is approximately
Read More »
Get the latest information directly to your inbox!